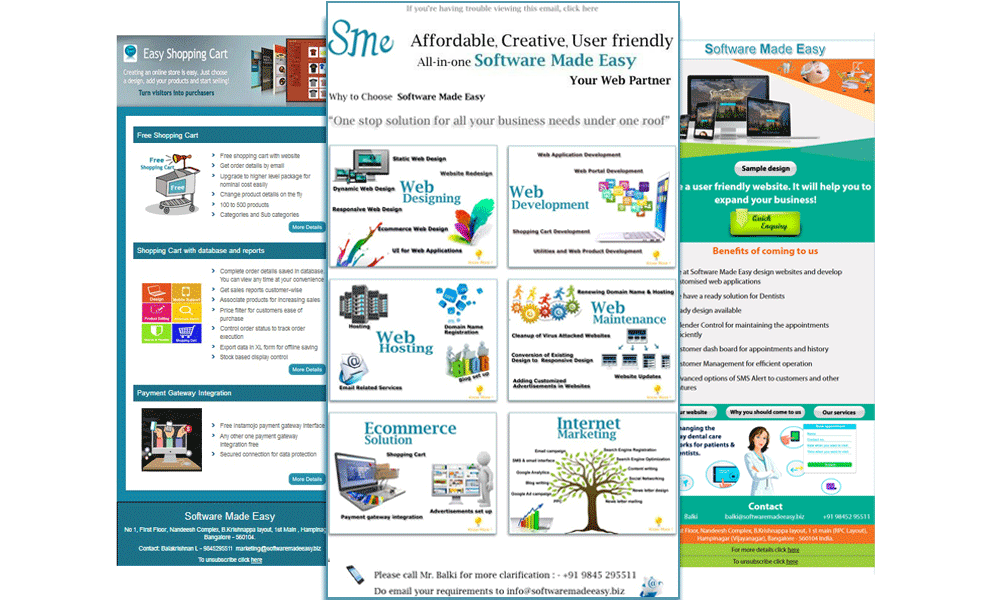 It is important that Companies who have websites also engage the users and customers with alerts about their new products and services. The Newsletter is one of the popular and effective mechanisms for customer engagement.
To be effective, the Newsletter has to be as carefully designed as a website. The contents have to be properly worded. The size and layout appropriate for email delivery; alternate text and link to website where the web version of the Newsletter can be seen; delivered without declared as spam and the email address blocked or blacklisted.
Software Made Easy designs Newsletters in three formats. 1. Email format 2.Web format which is a complete, comprehensive information with additional features possible in web and 3.Print format wherein the users can download and print the same (like PDF format) There are packages available, for customers to sign-up for Newsletter creation at regular intervals.
There are options to create as well as mail them to their contact list.
Additionally the Newsletters can be loaded on the website, archived and made accessible for future as well.
Even if Software Made Easy has not designed the website, we undertake only the Newsletter design also.
Please contact us, if you are interested in knowing more about this service and want us to create wonderful and effective Newsletters for you.